How to open a Remote Desktop Connection
Use Remote Desktop to connect to the PC you set up:
On your local Windows PC: In the search box on the taskbar, type Remote Desktop Connection, and then select Remote Desktop Connection. In Remote Desktop Connection, type the name of the PC you want to connect to (from Step 1), and then select Connect.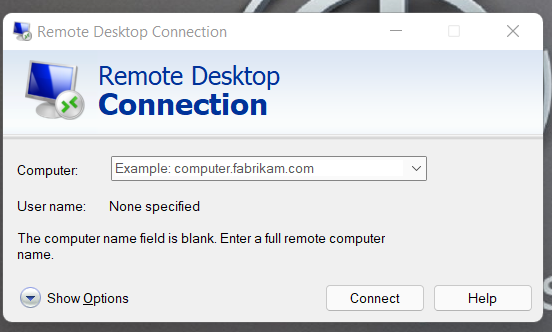 Related Articles

Open shared mailbox in separate browser window

Use this method if you want to view and manage the email for the shared mailbox in its own browser window. This method also lets you receive notifications of new items in the Inbox of the shared mailbox. Sign in to your account in Outlook on the web. ...

Syncing Teams document libraries or Sharepoint Libraries to your desktop

Prerequisites: Must have Teams installed and signed in Steps: Open Teams and navigate to the Files and folder you'd like to sync Click the link at the top titled "Open in Sharepoint" Sign in if requested, then click the button at the top labelled ...

Open and use a shared mailbox in Outlook on the web

If you want to monitor the email from your primary mailbox and the shared mailbox at the same time, use this method. After you complete this task, the shared mailbox and its folders are displayed in the left navigation pane each time you open Outlook ...

How to change the Windows 10 network location to private, when connected through a network cable

If you are on a desktop PC with Windows 10 that is connected to the network using an Ethernet cable, the procedure is different. First, click the network icon in the notification area of the taskbar (usually found on the bottom-right corner of the ...

Set up PC folder backup

If you're prompted to back up your important folders (Desktop, Documents, and Pictures), select the prompt to start the folder backup wizard. If you didn't see the prompt or you already closed the wizard, select the white or blue cloud icon in the ...